From my earliest childhood memories is Enid Blyton and Noddy stories.
In part that memory includes a train with Noddy and Big Ears by Morestone models.
I've had a number of models, unboxed and shabby, in my collection for a number of years.Movie Fifty Shades Darker (2017)Watch movie online John Wick: Chapter 2 (2017)
In the past few weeks I've gathered them all up and taken some fresh pictures and added a new gallery featuring these models.
My recen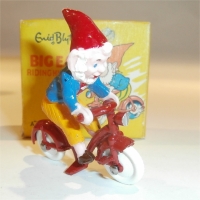 t acquisition of the Big Ears bicycle from the UK triggered this process and I am pleased to include that model in my collection.
I am keen to find the boxes and gift sets that I missing to complete the group of models that make up this series from Morestone (Morris & Stone I think they were at one time).
Still seeking Noddys Garage Gift Set and the one with Mr Plod character. The boxes for the train and wagon would also be great to have.
See more pictures and information at the Morestone Noddy Toys page.