While I do not collect toy guns, I am interested in Australian made die-cast and 'A Pope Product' Diecast Toy Gun caught my attention while I was researching a die-cast toy car that I added to my collection recently.
Update November 2015: I have now added two Aussie Cap Guns to my die-cast collection.
The following images are from my original page about these guns. I am still looking to purchase a Ned Kelly Repeating Cap Pistol or Gun that was another Pope Product.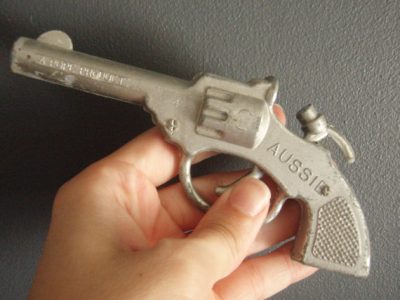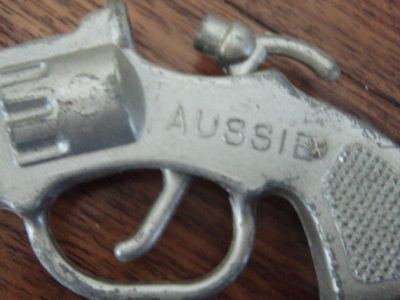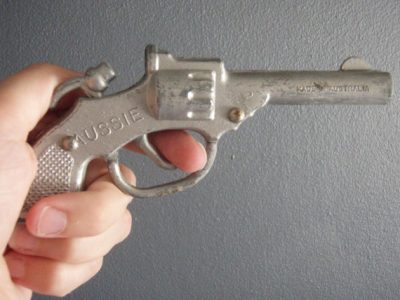 This small pistol appears to be a cap gun but a single shot load.
This close up of the hand grip shows the trigger mechanism and the AUSSIE imprint in the casting.
I assume the marketing name was something like 'Aussie' cap gun.
Thanks to A Little Bit Dusty in Adelaide for the photos of this hand gun.
Searching further and I have found a similar item in a forum entry on gold and metal detecting. The bullet along with it is interesting but I doubt that this was meant to be fired with the cap gun.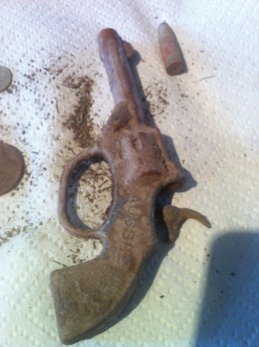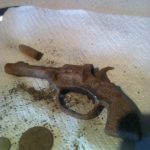 This is the same model as the clean one shown above.
And on a similar site, with another round of metal detecting identifying a Pope Ned Kelly repeating cap gun.