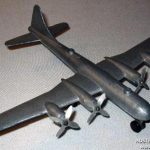 My first knowledge of this B-29 Supa-Fort model was via an enquiry from Anthony in the Diecast Aircraft Forum. I had been searching for more details on my Pope Product Buick diecast car when I came across this information.
A picture thanks to the HobbyTalk Forum and Tone for the photo.
Further, there also mention of the model in a Nobles auction lot back in 2007 which apparently included the Micro Models Vickers Viscount that has eluded my collection for a number of years. If I read this auction lot correctly there were 2 of each of the planes.
Updated: July 2015: I was contacted by Tony Loursensen from Queensland and quickly acquired his Pope Supa-Fort model and gladly added it to my collection of Australian Made models.
The photos below are of the Pope Product B-29 Supa-Fort aircraft diecast model.