The popularity of the Matchbox 1 to 75 series had much success and with that comes imitation. Imitation in order to make money, to provide a cheaper alternative in markets that found Matchbox too expensive, and in some cases due to import restrictions.
My search for Matchbox copies has been relatively recent and there are other collectors around who have been looking at this for years. I bought a Blue Box retail box with some boxed models a while back and more recently received two CH models in among a collection of cereal toys I bought.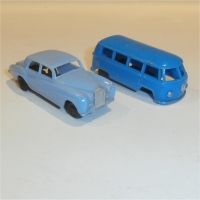 The Rolls Royce and Kombi pictured here are what prompted me to do some more research and the associated galleries display my collection and notes on Hong Kong made plastic Matchbox copies.
Also in similar threads are the Fun-Ho (New Zealand) & Streamlux (Australia) models which are under my Australian Made page, and the plastic Matchbox copy models are featured under Other Toys -> Plastic Toy Cars