I was asked recently about a small model of a Holden HK Monaro and as I was researching this I came across references to a board game that featured HK series Holden models.
The Touring Australia with Holden Board Game is one I was not previously aware of.
There are a few references:
ByteBoss Document References refers to an auction result list from 2004. One of the items listed is described as:
"Touring Australia With Holden. Promotional Board Game for HK Holden. Has Green HK Kingswood on cover of box, red HK Kingswood on board. Box in V.G.C, collapsed in two corners, board in E.C, includes all pieces. (For 2-6 players)"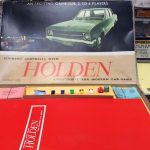 A more recent reference gave me a photo of the game from a GumTree listing. The listing is no longer available but I snagged the image from Google archives. In terms of value, the auction listing apparently achieved AU$190 in 2004. The Gumtree listing is not known but I expect it would have been lower as recent prices on collectables compared to 2004 are significantly lower.
If you have information on this game or have one to sell please get in touch with me.
On another note, in the Auction Results spreadsheet from ByteBoss there were other toys of interest,
a Tom Thumb Holden diecast kit was unsold
a Micro Models red FJ Panel Van sold for $30 (not clear, but I suspect that was unboxed)
a plastic Micro Panel Van "Corbett" reached $40
while its sister issue "Watsonia" livery was only $30
There are other examples and it is interesting to contrast the list of models in among the Holden 1:1 scale parts and ephemera.