The Novelty Toy Works Marvelscope is referred to in an advertisement from 3rd August 1922 in the Farmers Advocate newspaper. The text of which reads:
THE MARVELSCOPE.
Length, 7 1/2″ inches.
Diameter, 2 1/4″ inches.
Splendidly made. Beautifully Finished
Special Offer to End of Month,
3/- Each.
The popularity of the MARVELSCOPE is that it is provided with a screw top so that the objects may be
changed, which is a matter of enjoyable experiments to the possessor of a MARVELSCOPE. Glass scraps, Glass Buttons, Flower Petals, Feathers, thin colored paper, even metal rings, chains, etc, provide marvellous sights. If you cannot obtain a MARVELSCOPE at your Toy Shop, send 3/6 to "Toys" to this paper. Write to THE NOVELTY TOY WORKS PTY. for their Catalogue of Toys and Games.
Address— 317 RAE ST.. N. FITZROY.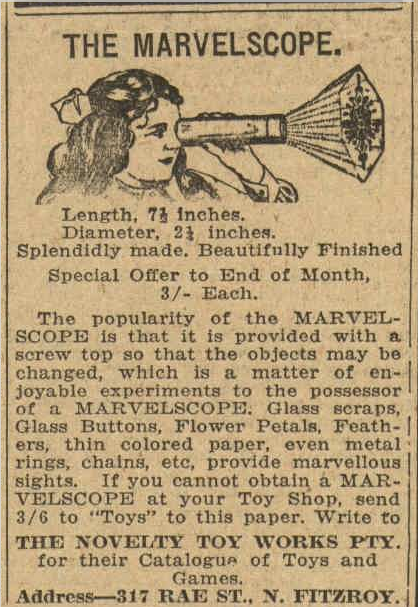 Novelty Toy Works Marvelscope Advertisement 1922

Trove | Farmers' Advocate (Melbourne, Vic. : 1917 – 1924) | Thu 3 Aug 1922 | Page 12 | Advertising
A further advertisement, this time for Craig Williamson Pty Ltd, commonly referenced as just "Craig's". The store was located at 8 to 26 Elizabeth Street Melbourne, approximately 4 doors along from Flinders Street.

In the lower right corner of the advertisement is a mention of the Marvelscope without specifying Novelty Toy Works. The text reads:
– The – "Marvelscope" A Fascinating Colored Glass Novelty, which shows designs of wonderful beauty, in infinite variety of form and color. Interesting to young and old alike. Craig's price, 3/6.

Trove | The Herald (Melbourne, Vic. : 1861 – 1954) | Sat 2 Dec 1922 | Page 17 | Advertising
More information on this toy is needed. A working example of the toy would be amazing!
Just as a footnote, all the advertising for the product is dated in 1922. The company still existed in 1923, but the product was not advertised beyond December Christmas listings and I expect it was not as popular or successful as they had hoped.
A further footnote is that a December 1921 advertisement of other Novelty Toy Works products also includes a listing for "The Wonderscope" and I am going to assume that there was a product name change in 1922 to "The Marvelscope" and hence the absence of that name existing prior to 1922.