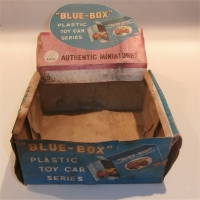 My collection of Blue Box Plastic Toys was started while I was chasing Matchbox style copies for my CH Toys collection. All the various Hong Kong made models of the era are interesting for the different methods, styles, and packaging. They are just as interesting for the similarities, apparent sharing of resources, and evolution of injection moulded plastic toys.
All of these models were in a display or counter top outer carton that I purchased from a seller in the USA. The display box itself is water damaged as were some of the model boxes inside the carton. However, it is a rare piece of toy ephemera, that would have been trashed when the individual models were sold. The lid of the box when folded back created the header card for the display counter.
The quality control on the Blue Box models was not particularly high. My collection includes items with axles that are far too long, wheels that are glued into the mudguard on the body, and sloppy silver paint highlighting.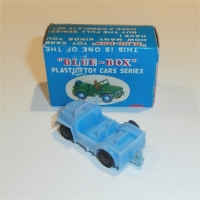 Of interest to me, is that of all the models, only one is not a Matchbox copy. At least all the models are of the same vehicle proto-types that Matchbox chose, so are Blue Box a Matchbox copy, or simply making models of the same proto-types ?
In any case, so far I have only found one model that does not have a Matchbox Lesney equivalent and that is the 7432 model which is identified by Blue Box as a Jeep, but the style of the model particularly the bonnet (hood) and mudguards, reflect the Austin Champ proto-type.
The complete gallery of my Blue Box collection is found under the Matchbox 1 to 75 Series Copies section of this site Blue Box Plastic Toys.
I am interested in adding other variants of these 1960's Blue Box models to my collection as a part of my 'Matchbox Copies' items.