The Novelty Toy Works Little House Builder Toy is a set of machined timber building blocks which has its origins in the U.S.A, or at least it is an obvious copy of a U.S.A patented toy set.
This toy is one I was asked to investigate and ended up with tracing a lot of information about The Novelty Toy Works business.
The building blocks are made from Huon and Red Pine presenting similar colours to the Art Toy Company San Francisco set which used Californian Redwood and Sugar Pine timber.
The blocks were machined in the factory at 317 Rae Street North Fitzroy and were possibly made for the life of the business from 1916 through 1924.
The art work for the packaging is a direct copy of the Art Toy product including all the text with the exception of the makers name and a patent number of 17894 which appears to be Australian but I have not been able to confirm the patent application or approval.
Values for the sets will vary depending on condition and completeness, and finding a buyer, but a guide for 2022 would be AU$50 a set.
Christmas Display Listing 1921
A Christmas Display advertisement for Read's Department store in Prahran, dated 13th December 1921 includes references to wooden toys, including the Little House Builder:
MODEL COTTAGE BUILDERS, toys that please; XMAS FAIR PRICE, 8/11. MARVEL TOY, "The Wonder Builder"; XMAS FAIR PRICE, 5/0. UMBRELLA KITE, with parachute and wood tail of various colours; XMAS FAIR PRICE, AUSTRALIAN CASH SYSTEM, children's shop, playing playmate and message sender; XMAS FAIR PRICE, 4/6. LITTLE HOUSE BUILDER, no nails, no tacks, no paints, build anything; XMAS FAIR PRICE, 5/6 each. AUSTRALIAN MODEL ENGINES and TRAIN BUILDER, specially selected and seasoned Australian timber; XMAS FAIR PRICE, 15/. AUSTRALIAN GIBBET TOY, magic spero- meter, hang me, blow me; XMAS FAIR Price, 1/9 each. AUSTRALIAN WONDER KITE, every one a sure high flier; XMAS FAIR PRICE, 1/6 each. PORTABLE WINDMILL, Instructive building toy. XMAS FAIR PRICE, 4/11 each. TROLLEY CYCLOPS, rubber-tyred, also steel wheels; XMAS FAIR PRICE, from 30/ to 49/ each. BELGIUM WAGGONS, red with gold rim and blue with gold rim; XMAS FAIR PRICE, 29/6. CHICKENS on WHEELS, bright yellow; XMAS FAIR PRICE, 5/11 each.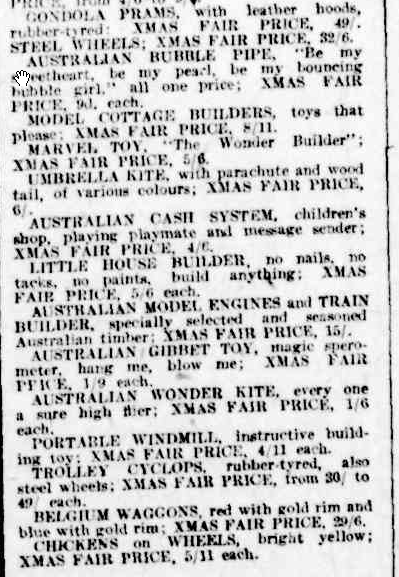 Read's Prahran Christmas Fair and Toyland Advertisement

Trove | The Argus (Melbourne, Vic. : 1848 – 1957) | Tue 13 | Dec 1921 | Page 12 | Display Advertising
Not included in the display advertisement is the actual address: Charles Moore Read Store, 325-43 Chapel Street, Prahran. Prices are in shillings/pence or just shillings for some.
The content of the columnar list of toys includes many wooden toys and another similarly named "Model Cottage Builders" which leads to the question, how many of these were products from the Novelty Toy Works factory in North Fitzroy?