Fiddle Sticks or Pickup Sticks or Mikado is a table top game that has been around in many forms for many years.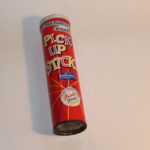 Its a simple game to understand, but requires a steady hand and thoughtful strategy to get a good score.
Why my interest? It is due to another afternoon spent sorting out all our stock of toys for Antique Toy World and coming across 3 different sets of the same (same same but different) game.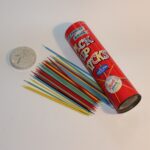 Two of the sets are from Thomas Hore who was making plastic toys in the 1950's in Melbourne. Identified as Pick Up Sticks. Both are in a tube with instructions printed on the outside of the tube rather than providing a separate printed sheet.
In total 37 sticks are provided with 9 of each colour except for the master black stick, of which there is only one. This provides a contrast in the games from the apparent origins where the game would have 41 sticks in various combinations.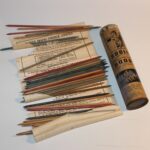 Which brings me to game version 3 which is a Robin Hood Fiddle Sticks game. Labelled as a product of Movie Merchandise 318 Flinders Lane Melbourne with 'Copyright Warner Brothers' underneath the Robin Hood image and text.
This game version uses wooden sticks dyed or stained with colour, in groups of 5, 5, 15, & 15 plus the black master stick, a total of 41.
The Powerhouse Collection in Sydney houses a similar set except it is branded as R.W.P. (Rozelle Wood Products) dated c1938, which ties in with the Warners Brothers movie 'The Adventures of Robin Hood' starring Errol Flynn.
In ebay adverts there are at least 2 other variations of the R.W.P. wooden game. A 'red' version of the game is shown in a sold listing as being "Made by PALOUR GAMES CO MELBOURNE" which I suggest is a misspelling of "Parlour Games", but more research is needed. This one still shows the Copyright Warner Brothers.
However what appears to be a much later edition from R.W.P has dispensed with that copyright notice on the image and now has painted sticks more akin to the Mikado and Pickup Sticks games cited at Wikipedia.
R.W.P is listed at Flood Street Leichhardt on the containers of the games. I expect that they are the manufacturer and provide re-branding for others like Movie Merchandise Productions.