The question, is this a Cereal Toy or not?
It was in a small collection of cereal toys that I purchased recently and it appears to have been partnered with a Cowboy from the late 1950's so the era is possibly correct, but it is not included in the list of Cowboy and Indian cereal toy series. It is nicely detailed on a small rectangular pedestal base or plinth. Blue flexible plastic or poly-something.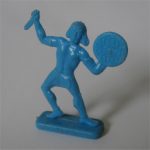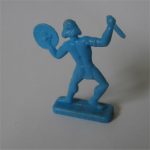 The indian brave with shield and dagger looks closer to the series mentioned in Craigs book, which is a polyethylene set of 10. This one is not in the items shown but the dagger and flat stylisation of the model has similarities. Refer Breakfast barons, Cereal critters and the Rosenhain & Lipmann Legacy page 199.